Image: Pink roses in loving memory of Marg Vazey. A gift from the Vazey family on the occasion of a memorial held at Blackwattle Bay on Saturday, April 29, 2023. Marg was a beloved crew member of dragon boat club Dragons Abreast, Sydney.
What's on this week
Check this post each week for events and activities. We look forward to seeing you.
Wordplay poetry group – Saturday June 3, 12pm
Regular and new participants welcome. We will meet in the hall. This month's prompt is "bears". Read previously published poems here: https://southsydneyherald.com.au/category/culture/poetry/
SSH Volunteers Meeting – Saturday June 3, 2.30pm
Cauliflower Hotel, 123 Botany Rd, Waterloo. For all volunteers and supporters.
Sunday worship
This Sunday (June 4) we celebrate Trinity Sunday. We'd love for you to join us!
Meeting ID: 879 3746 4388
Password: 087151
Download liturgy (in folder each week by Saturday).
Please note: There will not be a 12pm activity this week.
Commencing June, online Vespers (evening prayer) will take place on Sundays (and not Wednesdays) at 6 for 6.15pm. All welcome. Please find liturgy and Zoom link here.
Garden
Garden gathering (a little work, a lot of fun) each Tuesday from 8am. Thanks to David, Reece, Cathie, Anna, Bernie and André, Lachlan, Matt, Svetlana, Chris, John, Adrian and all … Follow garden progress on Instagram @edencommunitygarden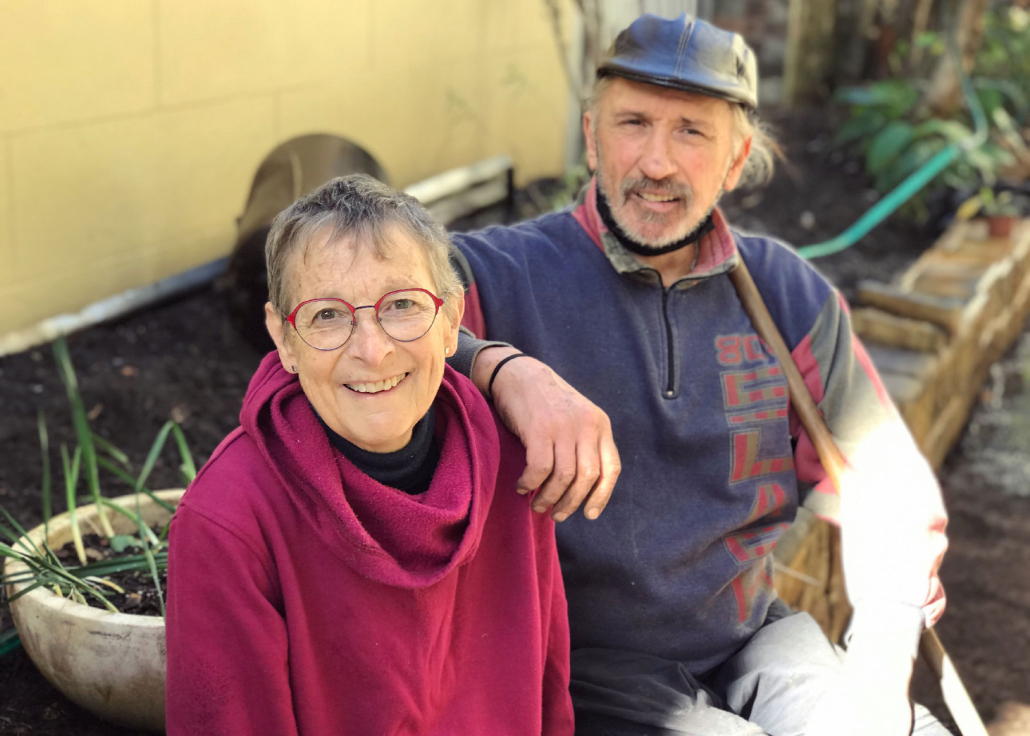 The Garden Working Group met on May 20. Progress continues regarding garden construction on the eastern side of the church, erecting and arranging garden beds, building paths.
Cathie has requested various tools and supplies from Alexandria Bunnings and City of Sydney. Andrew has met with Kim and Greg from Cafe Dreaming, and Roman at Wildflower ("we create and nurture native green spaces, working with communities to build a sustainable connection to country").
Lachlan has constructed most of the hen house interior, with two ramps up to the eight nesting boxes!
Read Gardening Hints and Tips by Chris Lodge here.
Big thanks to those who have donated blankets to keep us warm on chilly Sunday mornings. Blankets are greatly appreciated (photo by Karen).
Church Council
Church Council met on Saturday May 20. The following people were elected to office-bearer roles: Heather Robinson (chairperson), Melinda Kearns (secretary), Miriam Pepper (treasurer).
Council passed a resolution in support of the Yes campaign for constitutional recognition of First Peoples and a Voice to parliament.
Council also voted  in support of proposals from Pitt Street Uniting Church, affirming trans and other gender-diverse people – rights, recognition, consultation and resources – viz. the Sydney Presbytery strategic plan and the National Assembly in 2024.
Meeting with Nathan Tyson
Thanks to everyone who attended the special lunch at Hope Uniting Church, Maroubra (829 Anzac Pde), on Sunday May 21. Thanks to our hosts at Hope, the Revs. Hee and Phil.
It was good to hear from Nathan Tyson (Synod manager, First Peoples Strategy and Engagement), who led discussion on a Voice to Parliament, and beyond.
Issues raised included the Voice as advisory body, treaty and makarrata processes, truth-telling in our communities, news and social media; racism, trauma and negative impacts on mental health; hopes for better government, better ways of doing church on Gadigal land; building relationships with First Peoples; deeper conversations …
Image: Thanks to Naomi for another sensational birthday cake. Happy birthday to all who celebrate birthdays in May.
South Sydney Herald
The May issue of the SSH is out now and includes the first in a series of First Peoples articles curated by Aunty Norma Ingram (the series is a joint project of the SSH and City of Sydney).
Thanks to Marjorie and all for outstanding work. Currently, we have 16 content editors, three photographers, one brilliant cartoonist!
Opportunities for writers, photographers and illustrators, distributors and more … Seeking a Politics editor, Human Affairs editor, First Peoples editor and Advertising manager. We would love to hear from you. Contact marjorie@ssh.com.au
The June SSH is out next week!
TV special
Compass – "Sacred Space: Julie McCrossin" featuring South Sydney Uniting Church – on ABC iview – https://iview.abc.net.au/video/RN2211H004S00
Exhibition
Absolutely Queer exhibition (featuring artwork by Norrie) – at the Powerhouse Ultimo, 500 Harris Street, Ultimo. Until 1/12/2023.
Absolutely Queer is an exhibition celebrating contemporary queer creativity for Sydney WorldPride 2023. The exhibition explores Sydney's leading queer creatives who are reshaping attitudes towards their community through their work, creative processes and personal stories. maas.museum
Coming soon …
Gospel Conversation
We met for Gospel Conversation on Thursday May 11. Our study was called 'With sighs too deep for words', reading the book of Ecclesiastes.
Next meeting, continuing a study on the Wisdom literature, will be Thursday June 8, from 7pm to 8.30pm, at the manse and online: 'Pondering the parables together.'
Thanks to Greg for curating this six-part series.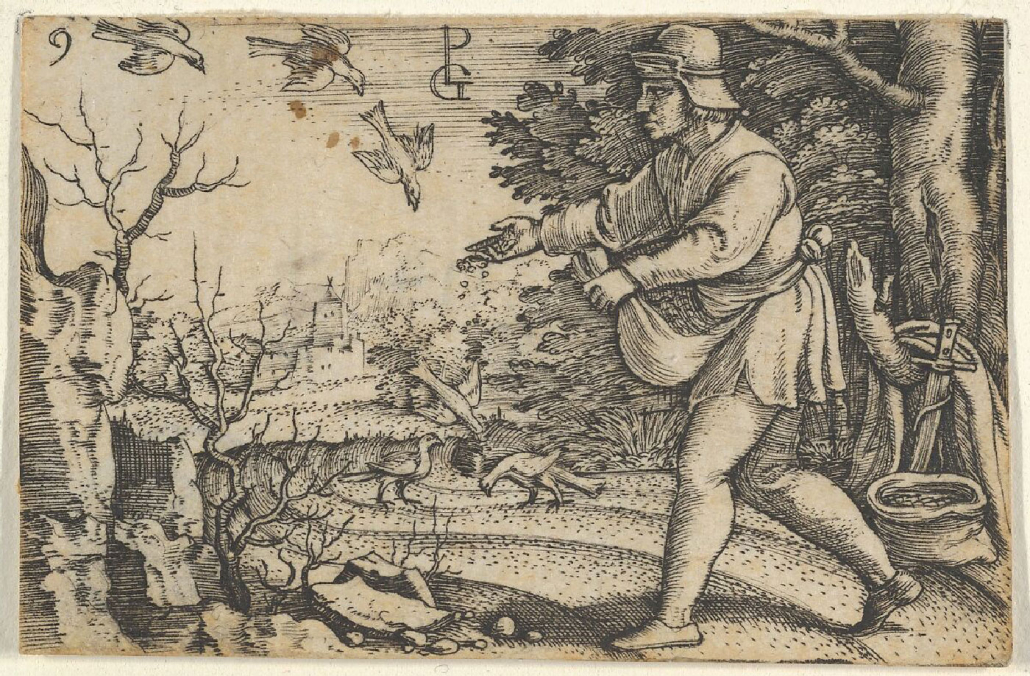 Image: Georg Pencz, 'The Parable of the Sower', from The Story of Christ (series), engraving, 1534-35.
Greg says: During the liturgical season of Ordinary Time, which falls between the Easter season and Advent, we will be exploring a number of parables in Gospel Conversation.
Gospel Conversation is our monthly Bible study which is held on the second Thursday of each month. Each session runs for about 1-1.5 hours.
Everyone is invited to attend in person (at the manse) or virtually (via Zoom). No preparation is required to join the session. Please bring a Bible or ensure you can access one, eg. on your mobile phone.
Discussions in each session will be led by different persons and should be interactive and fun.
The parable series will begin on June 8 at 7pm. The Zoom link to join is:
Meeting ID: 858 1336 0721
Passcode: 032351
June 8 – Greg Garrett (Parable of the Sower)
July 13 – Rev. Lofa Anga'aelangi
August 10 – Rev. Dr Karina Kreminski (Parables of Mustard Seed & Yeast)
September 14 – Marguerite Foxon (Parable of the Talents)
October 12 – Dr Matt Anslow (Parable of the Steward)
November 9 – Heather Robinson (Parable of the Merchant)
…
SPIRITUALITY IN THE PUB (SIP)/
SPIRITUALITY ON THE SOFA (S.O.S)
June 7, 2023  7.30-9pm (AEST)  Via Zoom
TOPIC : "Spirituality in Inclusiveness"
Let's, from the comfort of our own homes, join in conversation with
JULIE McCROSSIN AM & ELIZABETH DUCK-CHONG
as they help us – through sharing some of their own stories – to explore the topic.
Click here to open the Zoom link
Or cut and paste into your browser: https://us02web.zoom.us/j/81400817770?pwd=aDFBS0pwQkRqWmcyY2xxb1pmUEhvZz09
Or start Zoom and enter the following:
Meeting ID: 814 0081 7770 / Passcode: 537819
Follow us on Instagram: #catalystforrenewalaustralia
More info: www.catalystforrenewal.org.au
Or contact Marea: mareadonovan@gmail.com
or 0414 873 910.