Image: Frank Auerbach, 'Self portrait', pencil on cream wove paper, double-sided, 1954.
Ash Wednesday services – February 22
Services for Ash Wednesday will be held in the church on February 22, at 8am and 5pm.
Ash Wednesday marks the beginning of a 40-day journey through Lent. Throughout the churches, catechumens prepare for baptism into a life of radical hospitality.
Collect
Mystery of Goodness,
by whose gaze
we are called into being
and held in life:
teach us
the secrecy of prayer
which seeks no reward;
the generosity of love
which forgets itself;
the gift of a treasure
uncountable and unconsumed;
through Sīsū Kalaisi our Saviour.
Amen.
Collect by Steven Shakespeare, Prayers for an Inclusive Church.
Readings
"Do nothing to anyone that you would not want done to you … Give food to the hungry and clothes to those who need them. Whatever you have in surplus, give it to the poor – and always give gladly … Seek counsel from the sages and never reject sensible advice. Seize every opportunity you have to praise the Name of Our God" (Tobit 4:15-16, 18-19a).
"O God, create a clean heart in me, put into me a new and steadfast spirit … Be my saviour again, renew my joy, keep my spirit steady and willing … Open my lips, O God, and my mouth will declare your praise" (Psalm 51:10-17).
"Don't store up earthly treasures for yourselves, which moths and rust destroy and thieves can break in and steal. But store up treasures for yourselves in heaven, where neither moth nor rust can destroy them and thieves cannot break in and steal them. For where your treasure is, there will your heart be as well" (Matthew 6:19-21).
Reflection #1 (Matthew 6:19-21)
We are called to practise mercy generously but not expect recognition. We are called to disciplines of prayer that take us beyond what is done in public worship; to fast so that as we hunger we identify with those whose hunger is constant and for whom God cares. Lent challenges us again to seek God's ways in all things, even when they hurt; and then to keep on living more faithfully in the righteousness of God: to choose where our true wealth should be.
What discipline might you practise during Lent that could change how you live the rest of the year?
– Rev. Christine Moimoi, With Love to the World.
Reflection #2 (Matthew 6:19-21)
This material on almsgiving, prayer and fasting is peculiar to Matthew. These three categories of observance suggest a certain level of community development. Almsgiving implies living beyond the subsistence level oneself and thus having something to give to those in need. Community prayer implies stability, since ordinarily a regular place and time are both required for community prayer to take place. Fasting presumes relatively normal eating habits so that one can decide to limit the intake of food on a given day. All of these conditions might be more applicable to Matthew's community than to Jeshu and his disciples, who more likely received alms than gave them. Their prayer together could hardly have been bound to regular times or places. And they more than likely ate gratefully whenever they had food to eat, fasting more by circumstance than by choice.
– Ron Miller, The Hidden Gospel of Matthew, 2012.
Reflection #3 (Matthew 6:19-21)
Once again it all comes back to a question of the heart, the inner core of a person from which attitudes and behaviours proceed.
– Brendan Byrne, Lifting the Burden: Reading Matthew's Gospel in the Church Today, 2004.
Reflection #4 (Matthew 6:19-21)
When we think of Lent perhaps we think about fasting – giving something up for Lent. If we think of Lenten discipline as "prayer, fasting and almsgiving", however, there's more to engage our imaginations.
Prayer – openness, attentiveness …
Fasting – simplicity, self-awareness …
Almsgiving – generosity, compassion …
The rite for today entails an imposition of ashes – the cross in ashes we receive on our hand or forehead to signify openness, attentiveness; simplicity, self-awareness; generosity, compassion. In the Spirit of Jesus (mindful of Jesus the Word or Wisdom of God), we receive this invitation to new life.
The imposition of ashes is a kind of charcoal drawing …
For many artists charcoal offers a simple and affordable means of mark-making. The qualities we associate with charcoal drawing can apply also to Ash Wednesday and Lent.
Charcoal drawing invites a return to basic mark-making, artful composition. It is an expressive, sensitive medium, conducive to bold and subtle, graphic and tonal work. It is both enjoyable and messy, a malleable medium – lines and shapes can be quickly created, erased, re-created, smudged, altered, moved around – brought forward and pushed back …
There's nothing fancy about charcoal drawing. And, like writing by hand, it is revealing (of limitations and aspirations, personality and philosophy) – modest and honest.
What might be possible in relation to our three Bible readings … in relation to our threefold theme? Over the next 40 days, what kind of charcoal drawings, what kind of mark-making and composing – bold and subtle works of love – might they inspire?
– Andrew Collis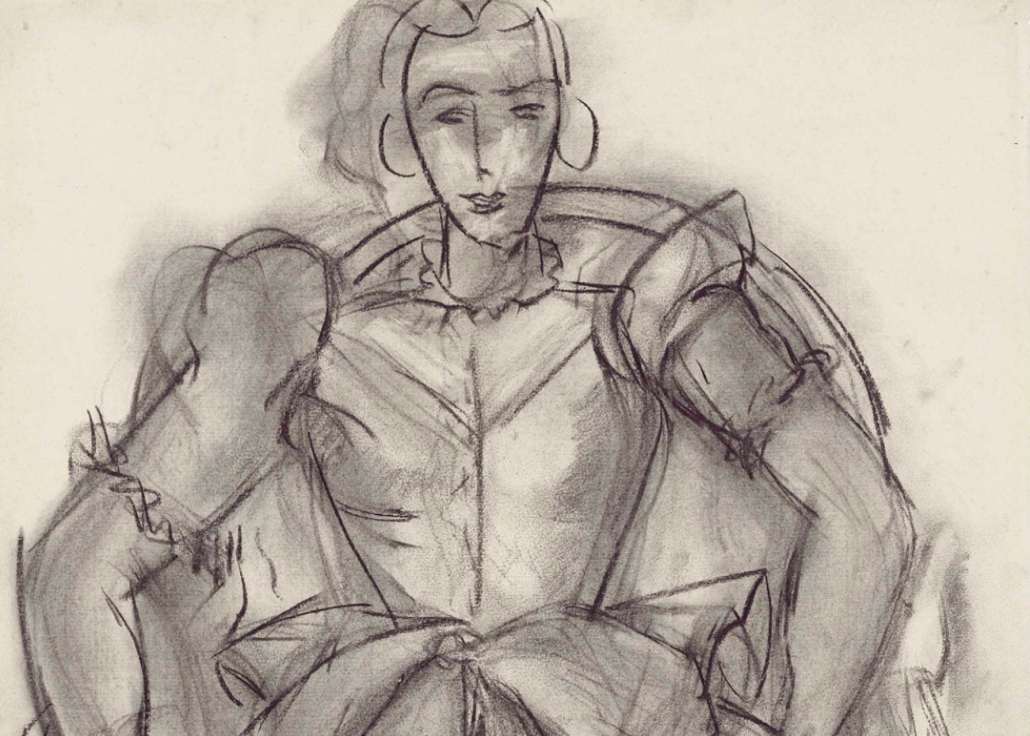 Image: Henri Matisse (1869-1954), 'Femme assise à la robe de taffetas', 1938 (detail).
Litany
We pray that we do not panic.
We pray that we do not lose our bearings.
We pray for a Spirit of understanding,
in the hope of forging alliances …
new identities, relations … love.
We pray for the people of Ukraine.
In the pain of lost lives
and shattered hope, O God,
show us your compassion.
In our anguish at the violence
that we can see in the world,
show us your compassion.
In our despair at the escalating violence
in Russia and Ukraine,
show us your compassion.
We pray for the people of Aotearoa …
We pray for the people of Syria and Türkiye …
From the greed and injustice
that divides the world into rich and poor, O God,
deliver us.
From hopelessness at seeing problems
too large to know where even to start.
deliver us.
From being quick to blame
and slow to respond,
deliver us.
From the desire for revenge,
that adds to the cycle of violence,
deliver us.
For generosity to share fairly
the world's resources, O God,
hear our prayer.
For steadfast disciples,
responding generously,
hear our prayer.
For families who have fled,
and are trying to survive with nothing,
hear our prayer.
For aid agencies and workers,
responding with practical care
in dangerous places,
hear our prayer.
For churches throughout the world,
hear our prayer.